The insurance company doles out your money and you don't have any say in it.
Isn't it time to take control of your Workers' Comp?
Workers' Comp is the way you finance employee injuries. For every dollar the insurance company spends. You are likely to pay back $2.00 to $3.00 It's our job to stop the borrowing at such high interest rates. Because Workers' Comp is so complicated and confusing, you are left to assume that your premium audit reports are accurate and your Experience Modification Factors are correct. However, because of mistakes rampant in the Workers' Compensation system at least 50% of businesses are overcharged for their Workers' Comp insurance. Plus, once one of your employees suffers an injury that is not managed correctly, the financial and and emotional impact could be destructive. To help you wrest control back from the insurance companies, we have created a copyrighted 20-step process.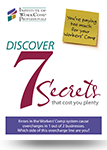 SEVEN SECRETS
You'll receive important information to help you avoid overcharges on your workers' compensation.