Why There Are Too Many Slips, Trips, And Falls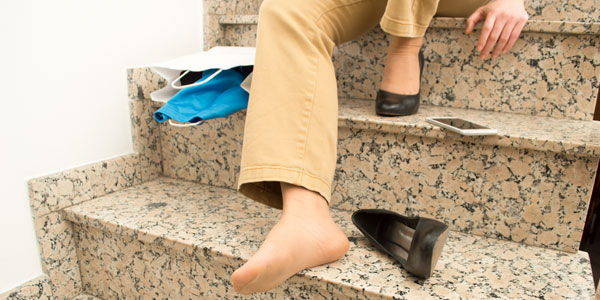 Employers have spent a lot of time and money on the traditional solutions to slips, trips, and falls, which occur in almost every type of workplace, yet they still account for:
More than 95 million lost work days per year – about 65 percent of all work days lost
15 percent of all accidental deaths per year, the second-leading cause behind motor vehicles
About 25 percent of all reported injury claims per fiscal year
A higher percentage of worker deaths. Deaths from falls on the same level increased 17% in 2013
The problem is exceedingly difficult to solve and employers who implement good housekeeping practices, provide proper lighting, traction aids and safe footwear, keep walking surfaces clean and in good repair, install railings and guards, display warning signage and so on are frustrated by recurring slips, trips, and falls in their workplace.
A December 2014 survey of almost 1,300 safety professionals by Safety Daily Advisors, found the "big three" causes of slip, trip, and fall incidents are:
Housekeeping – 16%
Wet or slippery surfaces – 25%
Human factors – 54%
Establishing detailed procedures, allowing adequate time for cleaning, assigning responsibilities, and conducting periodic inspections for slip and trip hazards can go a long way in ensuring proper housekeeping. But the human factor also plays a role. Instilling in workers the importance of immediately cleaning a spill, closing file drawers when done, picking up loose items from the floor, keeping aisles and walkways free from clutter, and keeping their personal works pace clean and orderly requires an on-going effort.
Reducing wet or slippery surfaces can be challenging, particularly when weather conditions change. Recognizing the most frequently reported types of surfaces where these injuries occur, including parking lots, sidewalks, food preparation area, and floors in general and conducting walkway audits helps to identify safety issues so that plans can be established to eliminate them. Such plans need to account for varying weather conditions. But, again, the human factor plays a major role. No matter how well snow and ice are removed from a parking lot, the employee who is running late and runs wearing leather-soled shoes has a good chance of falling.
This explains why the problem is so difficult to solve – employees often perceive a lower risk than exists and take unsafe actions like walking too fast, not reporting or cleaning up a spill, moving blindly around corners and so on. Even if employers do everything possible to address the physical factors that cause incidents, they cannot eliminate the problem without addressing human factors.
There are many resources available to help employers address the physical risks. OSHA offers a checklist for identifying hazards, and industry associations, agents and insurance companies provide resources. There are also videos, statistics, and toolbox talks that can help demonstrate the risks to employees. Yet, there is little doubt that the toughest thing to do consistently is to control individual behavior.
It's easy to understand what happens – employees walk thousands of steps a day, don't think about the process, get distracted by thinking about the meeting they are headed to or a situation at home, texting a message, or answering the phone, and completely miss the wet floor sign. Distraction results in blindness to their surroundings. Moreover, their emotions, sense of urgency, fatigue, or complacency can take over.
If only it were as simple as saying, "pay more attention" or "don't get distracted." Changing behavior is not easy and it takes time and commitment, but the best solution is a behavior-based safety approach. According to WorkComp guru, David Leng, "The goal of behavior-based safety is to encourage every employee to think and take that one second to say, "If I do this, in this fashion, could I get hurt?"
The first step is helping employees become aware of their unsafe habits and analyze their mistakes. Important habits to reduce slips, trips, and falls include:
walk with caution and make wide turns at corners
test footing before committing weight
open doors with caution
use railings on stairs
3-point contact on ladders and equipment
look before moving
wear appropriate footwear; being aware of weather forecasts
push (rather than pull) carts to allow a better line of sight
keep eyes and mind on task, no multitasking
no texting or talking on phone while walking
be alert for trip hazards
recognize dangers of walking on ice
take designated walkways, rather than shortcuts
don't wear sunglasses in low-light areas
report all potential hazards
It will take time and effort to change employees' perception of risk and personal responsibility. But with a proactive approach that builds a culture and fosters an attitude and behavior that puts safety first, workplace injuries will be reduced.
SEVEN SECRETS
You'll receive important information to help you avoid overcharges on your workers' compensation.