Important studies and employee takeaways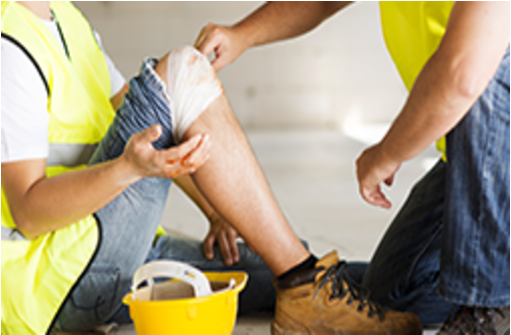 Overexertion tops list of serious, nonfatal work injuries for third straight year – Liberty Mutual
The 2017 Liberty Mutual Workplace Safety Index uses Liberty Mutual workers' comp claims data, as well as information from the U.S. Bureau of Labor Statistics and the Washington-based National Academy of Social Insurance, to determine the costliest workplace injuries and those that result in employees missing six or more days of work.
For 2014, the injuries cost employers more than one billion dollars a week, or close to $60 billion a year.
The top ten include:
Overexertion (13.79B) 23%
Falls on same level ($10.62B) 17.7%
Falls to lower level ($5.50B)  9.2%
Struck by object or equipment ($4.43B) 7.4%
Other exertions or bodily reactions ($3.89B) 6.5%
Roadway incidents involving motorized land vehicle ($3.70B) 6.2%
Slip or trip without falling ($2.30B) 3.8%
Caught in or compressed by equipment or objects ($1.95B) 3.3%
Struck against equipment or object ($1.94B) 3.2%
Repetitive motions involving micro-tasks ($1.81B) 3.0%
While overexertion, which includes lifting, pushing, pulling and other actions involving objects did decrease somewhat from 2013, falls on the same level and roadway incidents continue to trend upward.
Employer takeaway: Many employers have done a good job of implementing safety measures, adopting automation and new processes that reduce injuries, and fostering a strong safety culture, but injuries still happen. Understanding injury causation is a complex process. Factors ranging from human error, unsafe behavior, stress, and inadequate skills to unsafe conditions, insufficient training, faulty equipment, lack of supervision and so on come into play. Analyzing data to discover trends and problem spots that are driving the serious workplace injuries can help develop safety programs that target those causes. Moreover, employers have found success by increasingly involving employees in safety leadership, encouraging workers to be the "eyes and ears" of safe working practices, including the authority to stop work without fear of repercussion.
Related article:  Overexertion accounts for more than 25% of the top ten injury costs: Liberty Mutual
SEVEN SECRETS
You'll receive important information to help you avoid overcharges on your workers' compensation.